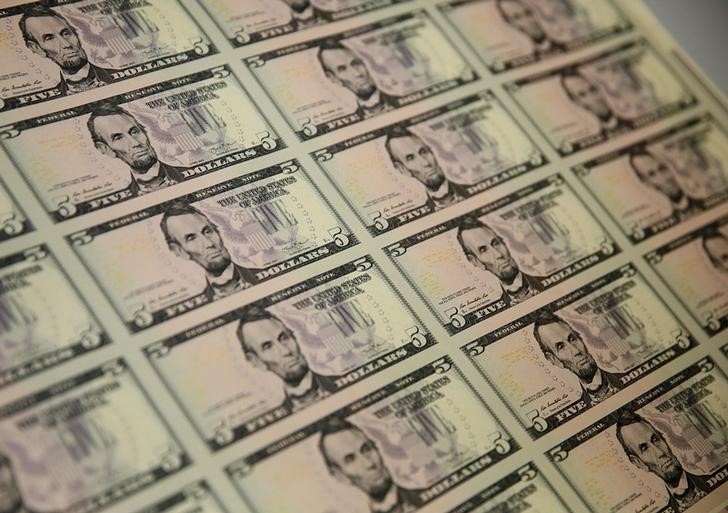 © Reuters. The U.S. dollar was higher on Thursday.
Investing.com – The dollar edged higher on Thursday after pending home sales in the U.S. rose unexpectedly, while the euro was slightly lower.
The U.S. dollar index, which measures the greenback's strength against a basket of six major currencies, was up 0.21%, near a two-month high of 96.38 by 11:04 AM ET (15:04 GMT).
Contracts to buy previously owned homes unexpectedly rose in September by 0.5%, compared with a 0.1% decline forecast, the National Association of Realtors (NAR) reported on Thursday. The news was welcome in a struggling sector of an otherwise strong economy.
The Canadian dollar was lower, with USD/CAD up 0.25% to 1.3087.
The dollar inched up against the Japanese yen, with USD/JPY up 0.25% to 112.52.
Meanwhile, the euro was lower after the European Central Bank made no changes to its monetary policy, as expected. But the central bank could possibly extend its asset purchase program as its president, Mario Draghi, insisted in the post-decision press conference that accommodation remained necessary.
EUR/USD fell 0.10% to 1.1380.
Sterling remained under pressure over Brexit worries, with GBP/USD falling 0.5%, near a two-month low of 1.2815.
Elsewhere, the Australian dollar was higher, with AUD/USD rising 0.27% to 0.7078 and NZD/USD decreasing 0.09% to 0.6519.
sponsoredArticle = 'div-gpt-ad-1466339494851-0';
function addSakindo(){
googletag.cmd.push(function() {
googletag.defineSlot('/6938/FP_EN_site/FP_EN_not_Out_of_page_video_Content', [1, 1], 'div-gpt-ad-1531124357521-0').setTargeting('ad_group', Adomik.randomAdGroup()).addService(googletag.pubads());
});
googletag.cmd.push(function() { googletag.display('div-gpt-ad-1531124357521-0'); });
}