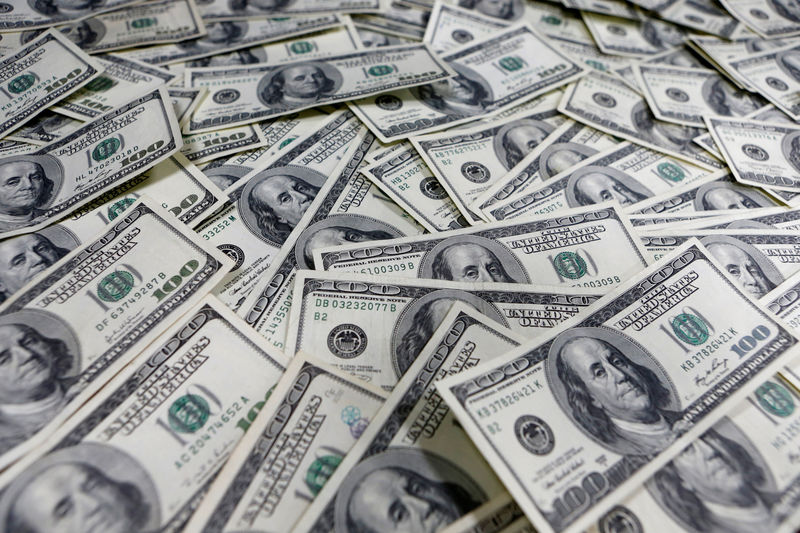 © Reuters. FILE PHOTO: Photo illustration of one hundred dollar notes in Seoul
By Vatsal Srivastava
SINGAPORE (Reuters) – The dollar traded in tight ranges against most of its peers on Friday as investor appetite for riskier assets remained shaky while the euro stayed near two-month lows after the European Central Bank failed to convince markets that rates would rise.
U.S. stocks climbed on Thursday after the massive sell-off of the previous session, though the rebound in stocks failed to meaningfully sustain into the Asian day, which lent support to safe haven currencies. [MKTS/GLOB]
The Japanese yen traded relatively unchanged at 112.33 to the dollar, though it had weakened to 112.65 on Thursday as risk appetite made a cautious return. The yen tends to fall as confidence improves in financial markets.
Analysts don't think the markets are out of the woods yet, however, with risks such as rising trade tensions, Italy's budget woes, geopolitical uncertainties and U.S. corporate earnings persist.
"The risk sentiment is still quite fragile. Overnight, we had Amazon (NASDAQ:AMZN) and Alphabet (NASDAQ:GOOGL) declare results which were not that cheerful. I expect the yen to re-test its recent highs," said Sim Moh Siong, currency strategist at Bank of Singapore.
The euro (EUR=) traded flat at $1.1375 on Friday, having hit a two-month low of 1.1353 in the previous session, after ECB President Mario Draghi failed to convince traders that the bank could pursue monetary tightening after next summer as political and economic uncertainties grow in the monetary union.
The ECB reaffirmed on Thursday that its 2.6 trillion euro ($2.97 trillion) asset purchase program would end this year and that interest rates could rise after next summer.
The policy guidance has been consistent since June, even though the economic outlook has darkened while political turmoil in Italy looms over the currency bloc.
Analysts said markets remain skeptical about the ECB rates given inflation remains tepid.
"The risk, therefore, is that the guidance that interest rates will stay at current levels at least through the summer of 2019 will be pushed back," said Brian Martin, senior international economist at ANZ in a note. "That could well leave the euro vulnerable to further downside in the near term."
The dollar index (DXY) traded flat at 96.65 on Friday, after hitting a two-month high on Thursday. The gains in the dollar index were largely due to the losses in the euro, which has more than 60 percent weighting in the index.
The dollar was also supported by positive sentiment on Wall Street as blue-chip names like Microsoft (O:MSFT) delivered strong earnings, which helped push Nasdaq-listed companies higher, after suffering their worst decline since 2011 on Thursday.
Investors will also be awaiting third-quarter U.S. GDP data that is due out on Friday for further dollar cues. If the reading is lower than expectations investors will worry about economic growth momentum and whether that could possibly lead to a change in the U.S. Federal Reserve's monetary tightening path.
"Markets will be watching this number carefully as it could give signs if we are close to peak earnings for U.S. corporates. Housing data and consumer goods durables data has been soft lately," said Bank of Singapore's Sim.
The Fed is expected to raise rates by 25 basis points in December.
The Swiss franc, another safe haven currency, traded relatively unchanged at 0.9992 on Friday.
Sterling traded marginally higher at $1.2822 after it hit a six-week low of $1.280 on Thursday following Draghi's comments that the private sector needed to prepare for the possibility that Britain could exit the European Union with no deal on future relations.
(Graphic: World FX rates in 2018 – http://tmsnrt.rs/2egbfVh)
sponsoredArticle = 'div-gpt-ad-1466339494851-0';
function addSakindo(){
googletag.cmd.push(function() {
googletag.defineSlot('/6938/FP_EN_site/FP_EN_not_Out_of_page_video_Content', [1, 1], 'div-gpt-ad-1531124357521-0').setTargeting('ad_group', Adomik.randomAdGroup()).addService(googletag.pubads());
});
googletag.cmd.push(function() { googletag.display('div-gpt-ad-1531124357521-0'); });
}